[one_fourth]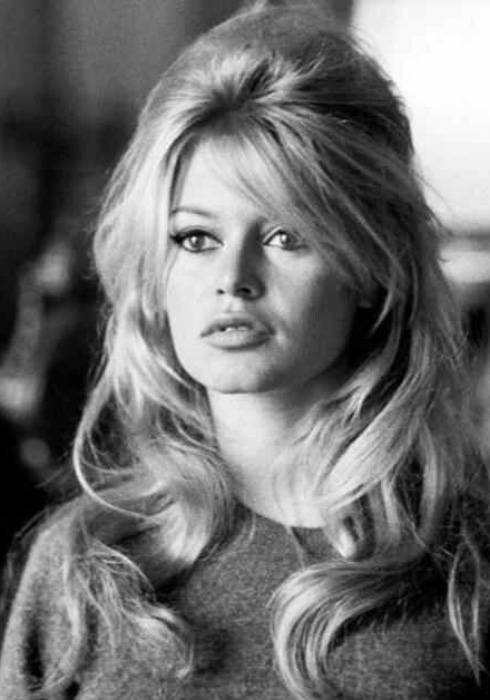 [/one_fourth][three_fourth_last]
1960s
With women once again in the workplace, they needed to adopt a more achievable style for their day-time look. Short, back-combed hairstyles could be quickly styled and held in place with hairspray and accented with long fringe. Bouffants we're also still a big trend in the 1960's. Jackie Kennedy pioneered this style movement with her glamorous bouffant. With the Kennedy and Nixon presidential debate being the first to be televised, women around the world saw Jackie's style and she soon became an icon. For younger women, the bouffant was taken to the next level with the beehive, which was much taller and more teased. There were also women who took the chop, a la Twiggy, and sported short, androgynous hairstyles.
Social movements were a large part of the 1960's. With the emergence of the Hippie movement of the late 60's, the voluminous and curly styles were replaced with long, slick straight, center-parted styles. Hait would be worn loose or in a ponytail adorned with flowers and ribbons. The African-American Civil Rights movement was also a big part of the period. With importance placed on togetherness, more natural styles like the afro were seen on both men and women. Angela Davis, Pam Grier, and The Supremes are just a few women that brought the afro back.
[/three_fourth_last][one_fourth]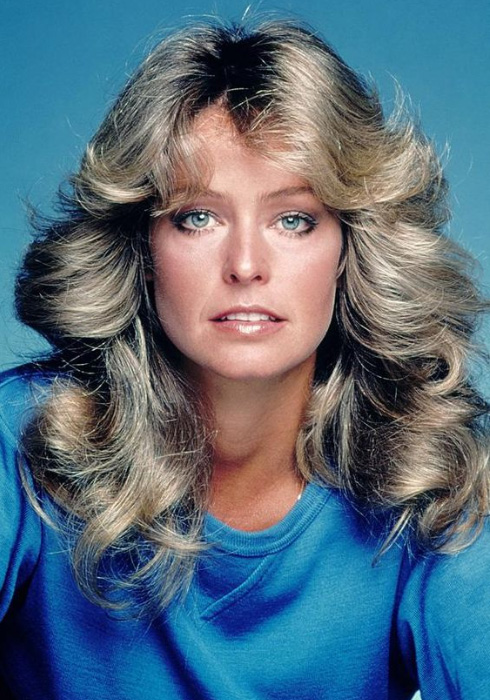 [/one_fourth][three_fourth_last]
1970s
The long hair of the 60's continues into the early 1970's. Cher, along with the entire hippie generation, wore their hair long and straight with a center part. As the Feminist Movement, the Civil Rights Movement, and the Youth Suffrage Movement emerged. Flowy waves and super straight hair were paired with headbands and floral decorations. For African American women, the celebration of natural hair continued with Afro hairstyles seen on both men and women. Onto the disco era, volume and curls came back into style. Manes of free-falling curls, soft parting's and long fringes were paired with bronzed skin and glossy lips. The aim was for a soft, feminine, and romantic look as seen on "Charlies Angles." Farrah Fawcett's signature feathery, shag style became a popular look for women to try at home. Even men's hair became softer with "feathered" cuts, highlights, and soft layers.
Towards the end of the era, some rebelled against the floral, romantic look and created their own style. Punk looks with spiked hair, vivid and fluorescent colors, tattoos, and mohawks entered into fashion for these rebels.
[/three_fourth_last][one_fourth]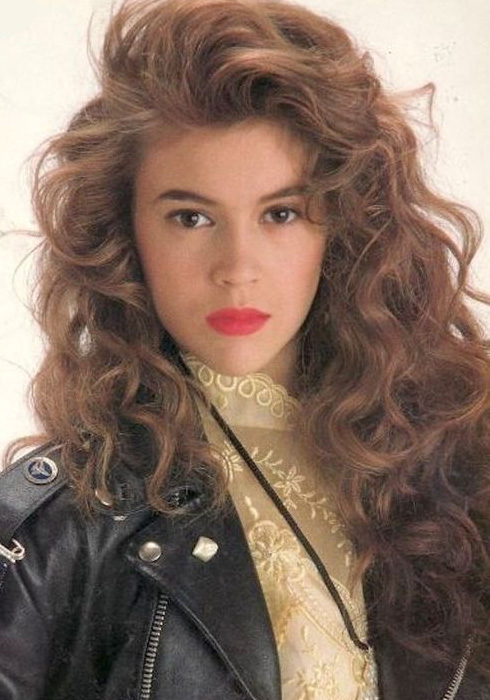 [/one_fourth][three_fourth_last]
1980s
During the 1980's, bigger was better. With big curls and crunchy waterfall bangs, many hairstyles from the decade help articulate that point. The 80's was all about daring hairstyles, like female mullets and vibrant colors. Starting in 1981, MTV launched and people became interested in music stars as well as film stars. Madonna burst onto the scene with her overabundance of lace, wacky colors, and oversized hair. Other celebrities like Cindi Lauper, Sarah Jessica Parker, and BLANK also experimented with colors, shapes, sizes, and textures. This age of excess saw fewer constraints and more freedom of choice in styles and trends. Unconformest trends and rebellion gave women the opportunity to sport unconventional, choppy, off-colored hairstyles that matched their eccentric clothes.
On the other side was the professional life. Women in the workplace favored strong tailored clothes and well-groomed hairstyles. The long bob was worn precisely cut and curled under. Hairstyles reflected control, a busy work life, and a hectic social life.
[/three_fourth_last][one_fourth]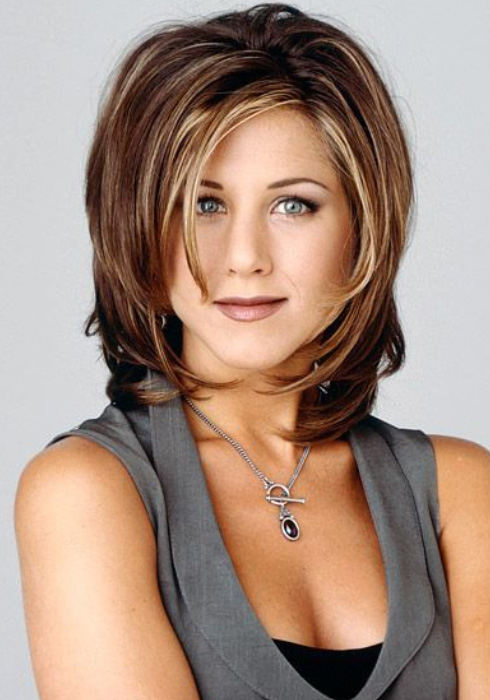 [/one_fourth][three_fourth_last]
1990s
During the 90's hairstyles emphasized fun and originality. With greater access to celebrities through television and the internet, Hollywood set the absolute standards of beauty and hair trends throughout the decade. At the peak of its popularity, the show Friends was a huge influence on women's hair. "The Rachel" worn by Jennifer Aniston, was a shoulder-grazing look with face-framing layers and chunky highlights. Another popular cut was short and choppy, as seen on Meg Ryan. Other styles was the 60's esque flipped out bob seen on Drew Barrymore, and the Bantu knots seen on Gwen Stefani. Hair accessories were also a big part of the decade with butterfly clips and scrunchies everywhere.
No matter the style, a lot of people were also going blonde. With multi-toned highlights or and all over lightening, even previously brunette models and stars turned blonde. With golden tresses and full, pouty glossy lips and sultry eyes, the look was definitely a throwback to the Bridget Bardot 'Sex Kitten' style. For men, frosted tips that were spiked up with gel was a popular look seen on pop stars and elementary school boys throughout the decade.
[/three_fourth_last][one_fourth]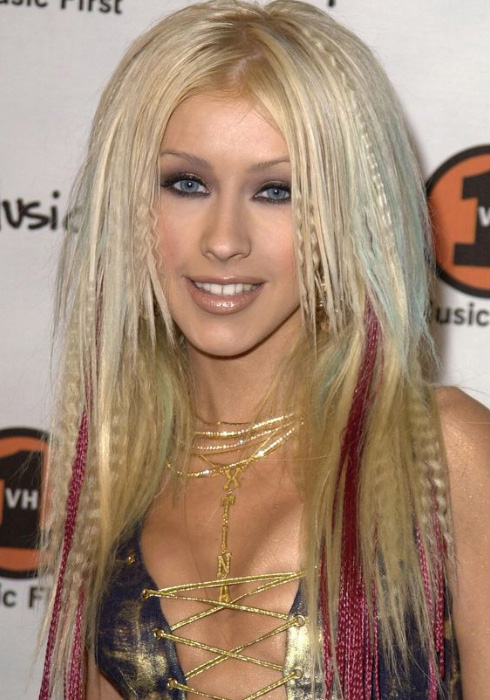 [/one_fourth][three_fourth_last]
21th Century
The 21st century saw a mix of previous styles. The early part of the turn of the century saw crimped styles of the 80's. In the early 2000's MTV launched Laguna Beach and The Hills, bringing blonde, beachy waves into style as well. Strippy highlights were seen on many stars along with a mix of curly and crimped hair. As the decade continued, bangs were teased and secured back with a bobby pin, topped off with flat-ironed hair and under eyeliner. Also seen were middle part bangs, but no matter what, the bangs were straightened. As time went on, the straightener was on the rise, and punk fashion was also in style. With increased volume, poker straight hair, and thick bangs, emo/punk styles were seen on a large subset young people.
Today, there a myriad of hairstyles for everyone. From multi-colored hair to long layers to super short hair, there are a lot of callbacks to days gone by.  Know your hair history and get inspiration for your or your clients next big haircut.
[/three_fourth_last]